Last year, we chronicled the Life of the Vines with Foley Family Wines Director of Viticulture Kara Maraden, and this year, we're heading out of the vineyards and into the cellars to spotlight one winemaker each month.
First up, is Tim Jones of The Four Graces, our Pinot Noir and Chardonnay-focused Willamette Valley estate in Oregon's stunning and vibrant wine country. Jones first joined the winery in 2018, and he's got one of the most interesting stories you'll probably ever read about… peas. So, from peas to Pinot, enjoy getting to know winemaker Tim Jones.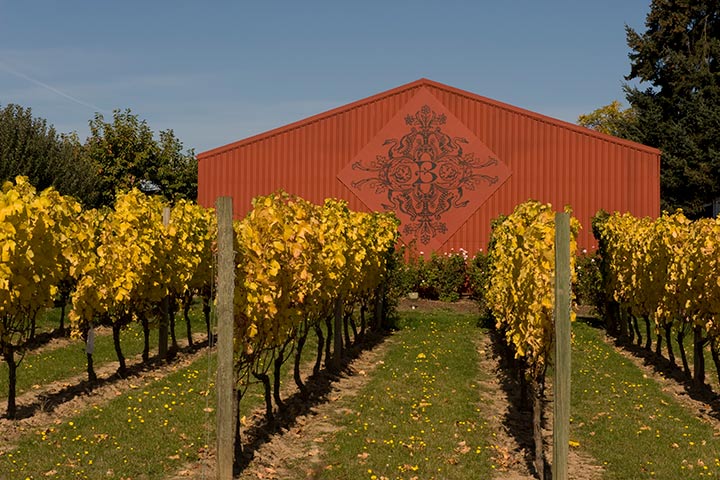 The Four Graces Estate in Dundee, Oregon.
FFWS: What was the one bottle that got you into wine? Tell us the whole story.
Tim Jones (TJ): If I had to pick just one bottle, then it's going to be my first fermentation. I had a chemistry teacher in high school that introduced me to the science of fermentation. One afternoon I decided to try an experiment at home. My parents had a garden, so our freezer in the garage was usually stocked with fruits and vegetables. When I opened the freezer, out tumbled a bag of peas. The bag split open and peas spilled across the garage floor. I was planning to use something else, but since the bag was already open I wondered if they might ferment. There was only one way to find out. I scooped up the peas, jammed them into an empty wine bottle, topped it off with water, and sealed it tightly with a cork. The next step was to find an inconspicuous place to ferment the peas. One inspired idea was followed by another. My father was restoring an old car in the garage. I decided to hide the bottle of peas up under the wheel well. It was dark, warm, and out of the way. I had planned to check on the bottle regularly, but since I was a teenager I promptly forgot about the experiment within a day. About a month later, it was late summer and the garage had to be over 90 degrees. I was just sitting down to dinner with my parents when I heard a really loud "BOOM!" from the garage. The peas!
FFWS: No!! We're afraid to ask what happened next. What happened next?!
TJ: The experiment rushed back into my mind and my instinct for self-preservation kicked in. I ran out to the garage, trying to get there before my parents. I opened the garage door. The smell was worse than you can imagine. Somewhere between a beached whale carcass and a high-density feedlot. So bad. The bottle had exploded, spraying fermenting peas all over the garage and my dad's car. I quickly cleaned up the glass shards and cork before my parents could find the evidence. My mom and dad were totally shocked and puzzled: "What's that horrible smell?" "It looks like bubbling pea soup!" "Why is it carbonated?" "How did it get behind the fender? I remained silent and helped clean the mess. We went back to dinner with unanswered questions and never spoke of it again.
FFWS: Okay, pea soup aside. You attended Willamette University in Salem, Oregon, but what did you major in? How did you catch the winemaking bug and when did it become something you decided to pursue as a career?
TJ: While I was a student at Willamette I took a job with a catering company working weddings at Rex Hill winery. If I was lucky, I got to take home bottles of wine at the end of the night. The wines were so much better than the typical college student wines, that I began to appreciate wine. Since I was a liberal arts student with an emphasis on Spanish and History, I decided to study abroad in South America. It was in Chile and Argentina that I really started to consider winemaking as a potential career.
FFWS: What is it about Washington wine country that lulled you? Why not California or Oregon, or Chile?
TJ: After I finished studying abroad in South America, I decided on winemaking as my path. A family friend is a winemaker in Washington and he recommended I take a job as a harvest intern. My first harvest was at Matanzas Creek Winery in Sonoma County. I loved the experience so much that I spent the next five years working all over Sonoma and Napa. I eventually went back to school to study winemaking at UC Davis. When I graduated, I saw moving to Washington as an adventure. It was an opportunity to make wine in a new environment and a relatively young industry compared to California.
FFWS: Tell us a bit about one, or a few of your mentors. Who are they, where did you meet them, what did you learn from them that you're still using today?
TJ: I have had so many mentors, especially early in my career. I appreciated how accessible and helpful they were, because they knew how difficult it can be to break into the wine industry. One, in particular, was David Stevens, a wine consultant in California. David was always willing to give career advice, plus he let me sit-in on his OIV wine marketing courses. All of these mentors helped me to understand the diverse roles of a winemaker, and gave me the confidence to know that sometimes it's best to wait, rather than act too quickly.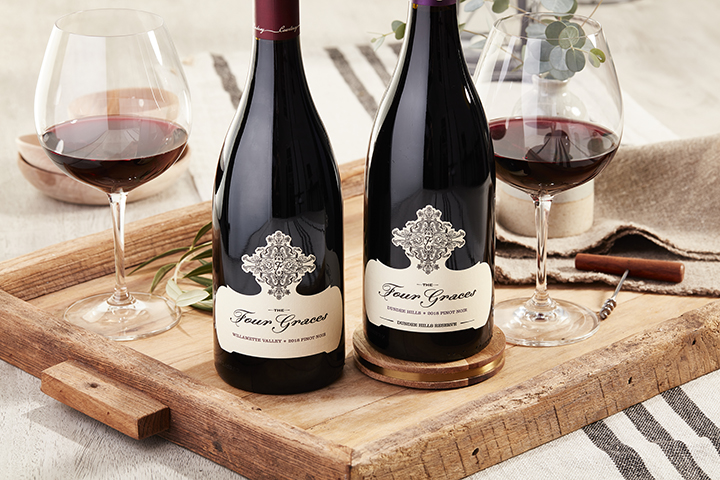 FFWS: Talk to us about the style of wines you're making at Four Graces.
TJ: I'm very excited about the future of The Four Graces. We have three estate vineyards, all in unique AVAs: Dundee Hills, Yamhill-Carlton, and the new Van-Duzer Corridor. All of our winemaking decisions are going to be based upon discovering and developing the unique characteristics of these sites. For a winemaker, especially one that specializes in Pinot Noir, this is a dream come true. Letting the vineyard dictate style creates the most distinctive, most interesting, and best quality wines. Oh, and I'm not going to make any wine from peas ever again.